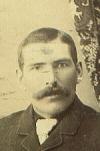 William John

McCABE

Age:

75 years

1859

–

1934
Birth
August 18, 1859

50

38



Census
1861

(Age 16 months)



Death of a maternal grandmother
Rebecca Maria (Widow)

Muldoon


after 1861

(Age 16 months)



Birth of a sister
Rose Ellen

McCABE


February 2, 1863

(Age 3 years)



Baptism of a sister
Rose Ellen

McCABE


March 3, 1863

(Age 3 years)



Death of a mother
Jane

MULDOON


October 13, 1875

(Age 16 years)



Burial of a mother
Jane

MULDOON


1875

(Age 15 years)




Cemetery:

St Mary's Catholic Cemetery, Lindsay ONT

Death of a father
Michael

McCABE


December 30, 1888

(Age 29 years)



Burial of a father
Michael

McCABE


January 1, 1889

(Age 29 years)




Cemetery:

Catholic Cemetery

Note:

Burial record is recorded in latin in the records of St. Mary's in Lindsay. Remains were moved to St Mary's Cemetery in Lindsay.

Marriage
Catherine

ROACHE

— View this family
November 18, 1889

(Age 30 years)



Death of a brother
Michael

McCABE


September 21, 1895

(Age 36 years)




Note:

Death was published in the Lindsay Papers. In addition an entry in the Ontario Death Records indicated that Michael died in the Mimico Hospital (For the Insane) outside of Toronto.

Death of a half-brother
Peter

McCABE


September 13, 1896

(Age 37 years)



Death of a sister
Mary Rebecca

McCABE


November 15, 1897

(Age 38 years)



Death of a sister
Mary Rebecca

McCABE


November 15, 1897

(Age 38 years)



Burial of a sister
Mary Rebecca

McCABE


November 15, 1897

(Age 38 years)




Cemetery:

Bellevue Cemetery, Larimore

Death of a sister
Elizabeth

McCABE


June 14, 1913

(Age 53 years)



Death of a sister
Rose Ellen

McCABE


1919

(Age 59 years)



Death of a brother
Arthur

McCABE


August 22, 1922

(Age 63 years)



Death of a wife
Catherine

ROACHE


June 18, 1925

(Age 65 years)



Death of a sister
Ann Jane

McCABE


December 13, 1926

(Age 67 years)



Death of a brother
James Bernard

McCABE


February 21, 1930

(Age 70 years)



Death of a brother
Patrick

McCABE


March 17, 1930

(Age 70 years)



Death
October 4, 1934

(Age 75 years)



father

Michael

McCABE

Birth:

about 1809

—

Ireland

Death:

December 30, 1888

—

Ops Township, Victoria County, Ontario

mother

Jane

MULDOON

Birth:

about 1821

—

Ireland

Death:

October 13, 1875

—

Lindsay, Ops Twp, Ontario, Canada

Marriage:

November 16, 1842

—

St. Mary's Church, Lindsay, Ontario

13 months

elder sister

Mary Rebecca

McCABE

Birth:

December 2, 1843

34

22

—

Lindsay, Ops Twp, Ontario, Canada

Death:

November 15, 1897

—

Hegton Township, Grand Forks County, North Dakota

3 years

elder brother

Michael

McCABE

Birth:

February 1847

38

26

—

OPS Township, Victoria County, Ontario

Death:

September 21, 1895

—

Mimico Hospital, Toronto, Ontario

2 years

elder sister

Ann Jane

McCABE

Birth:

March 28, 1849

40

28

—

Lindsay, Ontario

Death:

December 13, 1926

—

Lindsay, Ontario, Canada

3 years

elder brother

Arthur

McCABE

Birth:

about 1851

42

30

—

Lindsay Ont

Death:

August 22, 1922

—

Hallock MN

3 years

elder brother

James Bernard

McCABE

Birth:

July 13, 1853

44

32

—

OPS Township, Victoria County, Ontario

Death:

February 21, 1930

—

Graceville MN

2 years

elder sister

Elizabeth

McCABE

Birth:

July 28, 1855

46

34

—

OPS Township, Victoria County, Ontario

Death:

June 14, 1913

—

OPs Township, Victoria County, Ontario

21 months

elder brother

Patrick

McCABE

Birth:

April 20, 1857

48

36

—

OPS Township, Victoria County, Ontario

Death:

March 17, 1930

—

OPS Township, Victoria County, Ontario

2 years

himself

William John

McCABE

Birth:

August 18, 1859

50

38

—

OPS Township, Victoria County, Ontario

Death:

October 4, 1934

—

OPS Township, Victoria County, Ontario

4 years

younger sister

Rose Ellen

McCABE

Birth:

February 2, 1863

54

42

—

Lindsay, Ontario

Death:

1919

—

Grand Forks Co, North Dakota
Father's family with Mary

Daly
father

Michael

McCABE

Birth:

about 1809

—

Ireland

Death:

December 30, 1888

—

Ops Township, Victoria County, Ontario

step-mother

Mary

Daly

Death:

about 1840

—

OPS Township, Victoria County, Ontario

half-brother

Peter

McCABE

Birth:

August 1, 1840

31

—

Lindsay, Ontario

Death:

September 13, 1896

—

Arlington, Brookings, SD
Family with Catherine

ROACHE
himself

William John

McCABE

Birth:

August 18, 1859

50

38

—

OPS Township, Victoria County, Ontario

Death:

October 4, 1934

—

OPS Township, Victoria County, Ontario

wife

Marriage:

November 18, 1889

—

According to St Mary's Records
Shared note

WILLIAM is buried beside his mother Jane MULDOON McCabe in St Mary's Cemetary, Lindsay.

email from Kevin O Keefe of Lindsay on Aug 28, 2000 stated: "I took the picture of Michael and Jane over to my mother, and my two surviving uncles. Nelson is 79 and Leo is 88. I said," here is a picture of your great grand parents - the McCabes!"

Leo told me that Uncle Bill McCabe lived on the family farm south of Lindsay. He farmed it for many years and sold it to a nephew, son of Ann Jane MCCABE O'Keefe.

Bill married a woman named Roche and they had no children.

Note

According to Nelson O'Keefe, Bill McCabe was a crusty old man. Nelson's grandmother mother was Ann Jane MCCABE O'Keefe, one of Bill's older sisters. One story he told was that when Nelson was a boy, they visited Bill on the old McCabe farm at Conc 7 Lot 15. Bill was eating supper and he baecame annoyed by his dog barking in the yard. Bill went outside and \"hung\" the dog from a tree and came back inside to eat his supper. Nelson didn't say what happened to the poor dog.

Bill was young when his mother died but he must have missed her terribly. When the old Catholic cemetery on the west side of Lindsay was moved, to the present site in South Lindsay, the bodies were moved but many of them could not be identified due to the poor condition of the tombstones. William evidently paid for a memorial for his mother on the backside of his own tombstone in the cemetery when he died 50 years after his mother. There is no memorial for his father Michael.