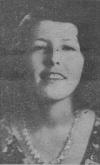 Frances Merrill

McCABE

Age:

96 years

1913

–

2010
Name

Frances Merrill

McCABE
Married name

Frances Merrill BEARDEN
Birth
August 17, 1913

36

32



Death of a maternal grandfather
Thomas

GRIFFIN


January 13, 1924

(Age 10 years)



Birth of a son
#1
Donald James

BEARDEN


December 22, 1937

(Age 24 years)



Birth of a son
#2
Francis Lee

BEARDEN


February 2, 1940

(Age 26 years)



Death of a son
Francis Lee

BEARDEN


May 26, 1940

(Age 26 years)



Death of a mother
Dolores Jane Isabel

GRIFFIN


September 27, 1965

(Age 52 years)



Death of a father
Francis Peter

McCABE


February 16, 1977

(Age 63 years)



Death of a brother
Vincent Lawrence

McCABE


October 27, 1981

(Age 68 years)



Burial of a brother
Vincent Lawrence

McCABE


October 29, 1981

(Age 68 years)



Death of a husband
Kermit

BEARDEN


November 16, 1991

(Age 78 years)



Death of a brother
Eugene Bernard

McCABE


February 5, 1996

(Age 82 years)



Death of a son
Donald James

BEARDEN


August 22, 1998

(Age 85 years)



Death
April 2, 2010

(Age 96 years)



father

Francis Peter

McCABE

Birth:

August 10, 1877

35

33

—

Lindsay, Ontario, Canada

Death:

February 16, 1977

—

Brownsville, Cameron, Texas

mother

Dolores Jane Isabel

GRIFFIN

Birth:

November 15, 1880

28

26

—

Grand Forks Co, North Dakota

Death:

September 27, 1965

—

San Benito, Cameron, Texas

Marriage:

November 20, 1907

—

Larimore, Grand Forks, North Dakota

11 months

elder brother

Eugene Bernard

McCABE

Birth:

October 9, 1908

31

27

—

Arvilla, Grand Forks, North Dakota

Death:

February 5, 1996

—

Universal City, Bexar, Texas

3 years

elder brother

Vincent Lawrence

McCABE

Birth:

February 18, 1912

34

31

—

Arvilla, Grand Fork Co., ND, USA

Death:

October 27, 1981

—

Brownsville, Cameron, Texas

18 months

herself

Frances Merrill

McCABE

Birth:

August 17, 1913

36

32

—

Larimore, Grand Forks, ND

Death:

April 2, 2010

—

Houston, Tx
Family with Kermit

BEARDEN
husband

Kermit

BEARDEN

Birth:

March 17, 1909

—

Guthrie, Oklahoma

Death:

November 16, 1991

—

Victoria Co, Tx

herself

Frances Merrill

McCABE

Birth:

August 17, 1913

36

32

—

Larimore, Grand Forks, ND

Death:

April 2, 2010

—

Houston, Tx

son

2 years

son

Francis Lee

BEARDEN

Birth:

February 2, 1940

30

26

—

Brownsville, Texas

Death:

May 26, 1940

—

Brownsville, Cameron, Texas

daughter
daughter
son
son
son
Death

Frances' Obituary, Brownsville Herald, April 7, 2010.

Frances Merrill McCabe Bearden, 96, of Houston, Texas passed away peacefully in her home on Good Friday, April 2, 2010. She was born Aug 17, 1913 in Larimore, North Dakota to the late Frank and Dolores McCabe. Her kindness and grace touched the lives of all who knew and loved her. She will be deeply missed.

She was preceded in death by her husband, Kermit; and her two brothers Eugene and Vincent; two sons, Donald and Francis Lee, three grandchildren and one great grandchild.

Frances is survived by five children: Dolores Parks and husband Joseph of Houston, TX; Mary Claire Zelazny of Fort Worth, TX; Gene Bearden of Tomball, TX; Emmett Bearden and wife Brenda of Crosby, TX; and Bill Bearden and wife Barbara of Overland Park, KS. She is also survived by 10 grandchildren, 17 great-grandchildren and 1 great-great grandchild.

Her family moved to south Texas in 1918 to Rio Hondo. Frances graduated from Rio Hondo High School at age 16. She married the late Kermit Bearden in 1938 and they lived together in Brownsville, TX for 40 years where they raised their family. They relocated to Victoria TX in 1991. They were married 53 years. Following Kermit's death in 1991, Frances relocated to Houston where she lived with her daughter, Dolores. Frances was an active member of St. Theresa Catholic Church, and loved to visit with her friends and play bingo with the Seniors Group.

In lieu of flowers, donations may be made to the Fr. Bill Pickard Scholarship Fund in Frances' memory; c/o St. Theresa Catholic Church, 6622 Haskell, Houston, TX 77007 or the charity of your choice.

Visitation and rosary will be held from 6-8 p.m., Wednesday April 7, Houston Chapel, 501 E. 18th ST., Houston, TX 77008.

Funeral mass will be held at 10 a.m., Thursday April 8, 2010, at St Theresa Catholic Church, 6622 Haskell, Houston, TX 77007. Reception will be held in the Community Center, 2nd floor.

Interment will be held Friday, April 9, 2010, at Mont Meta Memorial Park in San Benito, TX.

Shared note

[mccabe.ftw]

Lives with her daughter in Houston, according to Tom McCabe email 3/29/99.
Media object

Frances, Kermit and Family Portrait

Image dimensions:

1,353 × 765 pixels

Media object

Donald, Mary, Gene, Dorty, Emmet circa 1950 Portrait

Image dimensions:

1,308 × 666 pixels

Media object

Frances as young lady

Image dimensions:

354 × 585 pixels

Media object

Frances circa 1952

Image dimensions:

283 × 283 pixels

Media object

Frances with her horse Sheba

Image dimensions:

453 × 486 pixels

Media object

Little girl Frances with her father Frank

Image dimensions:

907 × 540 pixels

Media object

Frances with her father Frank circa 1970

Image dimensions:

705 × 486 pixels

Media object

Article in Brownsville Herald in 1933 - Frances Party

Media object

Frances McCabe Dressed Up

Image dimensions:

1,060 × 1,747 pixels