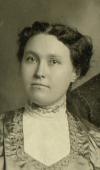 Charlotte Gardena "Lotta"

GRIFFIN

Age:

95 years

1879

–

1974
Name

Charlotte Gardena "Lotta"

GRIFFIN
Given names

Charlotte Gardena
Birth
January 26, 1879

26

24



Birth of a sister
Dolores Jane Isabel

GRIFFIN


November 15, 1880

(Age 21 months)



Birth of a sister
Mary Fleda Georgina "Fred"

GRIFFIN


January 26, 1884

(Age 5 years)



Birth of a sister
Margaret Anderson

GRIFFIN


December 30, 1885

(Age 6 years)



Death of a paternal grandfather
Thomas

GRIFFIN


July 29, 1887

(Age 8 years)



Death of a paternal grandmother
Jane

SAUNDERS


after 1890

(Age 10 years)




Note:

Jane was listed with her daughter Margaret Phair's family in Forwich in 1891 census of Ontario.

Death of a mother
Ellen

MILNE


May 25, 1891

(Age 12 years)



Death of a maternal grandmother
Isabella Booth

SCOTT


May 6, 1896

(Age 17 years)




Note:

She is buried in Grand Forks Cemetery according to the Grand Forks Herald, May 7 1896, \"The funera…

Occupation
1899

(Age 19 years)



Residence
1900

(Age 20 years)




Note:

Charlotte was a school teacher in the 1900 census of ND.

Death of a father
Thomas

GRIFFIN


January 13, 1924

(Age 44 years)



Death of a sister
Mary Fleda Georgina "Fred"

GRIFFIN


January 1, 1964

(Age 84 years)



Burial of a sister
Mary Fleda Georgina "Fred"

GRIFFIN


May 12, 1964

(Age 85 years)



Death of a sister
Dolores Jane Isabel

GRIFFIN


September 27, 1965

(Age 86 years)



Death
March 17, 1974

(Age 95 years)




Note:

Lottie moved from Montana to live with her sister Margaret in Portland Oregon a few years before her death. Margaret said that Lottie was in poor health and hardly ever moved from her chair in the living room after she came to live in Portland.

Burial
March 1974

(Age 95 years)




Cemetery:

Portland Memorial Museum
father

Thomas

GRIFFIN

Birth:

March 19, 1852

36

31

—

Durham Co, Ontario, Canada

Death:

January 13, 1924

—

Grand Forks, North Dakota

mother

Ellen

MILNE

Birth:

August 15, 1854

41

41

—

Ontario Canada

Death:

May 25, 1891

—

Grand Forks Co, North Dakota

Marriage:

January 29, 1878

—

Congregational Church, Howick, Huron Co, Ontario

3 years

younger sister

Dolores Jane Isabel

GRIFFIN

Birth:

November 15, 1880

28

26

—

Grand Forks Co, North Dakota

Death:

September 27, 1965

—

San Benito, Cameron, Texas

-22 months

herself

Charlotte Gardena "Lotta"

GRIFFIN

Birth:

January 26, 1879

26

24

—

Howick, Huron Ontario

Death:

March 17, 1974

—

Portland Oregon

5 years

younger sister

Mary Fleda Georgina "Fred"

GRIFFIN

Birth:

January 26, 1884

31

29

—

Grand Forks Co, North Dakota

Death:

January 1, 1964

—

Yakima, Yakima, Washington State

23 months

younger sister

Margaret Anderson

GRIFFIN

Birth:

December 30, 1885

33

31

—

Grand Forks Co, North Dakota

Death:

July 28, 1991

—

Portland Oregon
Residence

Charlotte was a school teacher in the 1900 census of ND.

Death

Lottie moved from Montana to live with her sister Margaret in Portland Oregon a few years before her death. Margaret said that Lottie was in poor health and hardly ever moved from her chair in the living room after she came to live in Portland.

Burial

Obituary March 20,1974 Portland Oregonian:

Charlotta Gordina Griffin, an Ontario native and a Portland resident since 1967, died Sunday at the age of 95 in a local nursing home. She lived at 6921 SW 36th Ave.

She was born on Jan 26, 1879, and spent her early childhood in Grand Forks, ND. She taught at Butte Business College in Montana for several years.

Her survivors include a sister, Margaret A Redman of Portland and several nieces and nephews.

Funeral will be at 3 pm Thursday in the Portland Memorial Home. Internment will be in the Portland memorial Mausoleum.

Note

Lottie was a teacher in business schools in North Dakota and Butte MT for many years. She was also an artist - some of her pottery paintings and nouveau art pottery are still owned by family.