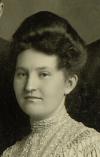 Margaret Anderson

GRIFFIN

Age:

105 years

1885

–

1991
Name

Margaret Anderson

GRIFFIN
Given names

Margaret Anderson
Married name

Margaret Anderson Redman
Birth
December 30, 1885

33

31



Education


Death of a paternal grandfather
Thomas

GRIFFIN


July 29, 1887

(Age 18 months)



Death of a paternal grandmother
Jane

SAUNDERS


after 1890

(Age 4 years)




Note:

Jane was listed with her daughter Margaret Phair's family in Forwich in 1891 census of Ontario.

Death of a mother
Ellen

MILNE


May 25, 1891

(Age 5 years)



Death of a maternal grandmother
Isabella Booth

SCOTT


May 6, 1896

(Age 10 years)




Note:

She is buried in Grand Forks Cemetery according to the Grand Forks Herald, May 7 1896, \"The funera…

Census
1910

(Age 24 years)



Death of a father
Thomas

GRIFFIN


January 13, 1924

(Age 38 years)



Marriage
Frank McIntosh

REDMAN

— View this family
July 24, 1929

(Age 43 years)



Death of a sister
Mary Fleda Georgina "Fred"

GRIFFIN


January 1, 1964

(Age 78 years)



Burial of a sister
Mary Fleda Georgina "Fred"

GRIFFIN


May 12, 1964

(Age 78 years)



Death of a sister
Dolores Jane Isabel

GRIFFIN


September 27, 1965

(Age 79 years)



Death of a husband
Frank McIntosh

REDMAN


July 10, 1972

(Age 86 years)



Death of a sister
Charlotte Gardena "Lotta"

GRIFFIN


March 17, 1974

(Age 88 years)




Note:

Lottie moved from Montana to live with her sister Margaret in Portland Oregon a few years before her death. Margaret said that Lottie was in poor health and hardly ever moved from her chair in the living room after she came to live in Portland.

Burial of a sister
Charlotte Gardena "Lotta"

GRIFFIN


March 1974

(Age 88 years)




Cemetery:

Portland Memorial Museum

Death
July 28, 1991

(Age 105 years)



father

Thomas

GRIFFIN

Birth:

March 19, 1852

36

31

—

Durham Co, Ontario, Canada

Death:

January 13, 1924

—

Grand Forks, North Dakota

mother

Ellen

MILNE

Birth:

August 15, 1854

41

41

—

Ontario Canada

Death:

May 25, 1891

—

Grand Forks Co, North Dakota

Marriage:

January 29, 1878

—

Congregational Church, Howick, Huron Co, Ontario

3 years

elder sister

Dolores Jane Isabel

GRIFFIN

Birth:

November 15, 1880

28

26

—

Grand Forks Co, North Dakota

Death:

September 27, 1965

—

San Benito, Cameron, Texas

-22 months

elder sister

Charlotte Gardena "Lotta"

GRIFFIN

Birth:

January 26, 1879

26

24

—

Howick, Huron Ontario

Death:

March 17, 1974

—

Portland Oregon

5 years

elder sister

Mary Fleda Georgina "Fred"

GRIFFIN

Birth:

January 26, 1884

31

29

—

Grand Forks Co, North Dakota

Death:

January 1, 1964

—

Yakima, Yakima, Washington State

23 months

herself

Margaret Anderson

GRIFFIN

Birth:

December 30, 1885

33

31

—

Grand Forks Co, North Dakota

Death:

July 28, 1991

—

Portland Oregon
Family with Frank McIntosh

REDMAN
husband

Frank McIntosh

REDMAN

Birth:

November 18, 1883

36

25

—

Mason City. Iowa

Death:

July 10, 1972

—

Portland, OR

herself

Margaret Anderson

GRIFFIN

Birth:

December 30, 1885

33

31

—

Grand Forks Co, North Dakota

Death:

July 28, 1991

—

Portland Oregon

Marriage:

July 24, 1929

—
Frank McIntosh

REDMAN

+ Alice

BEST
husband

Frank McIntosh

REDMAN

Birth:

November 18, 1883

36

25

—

Mason City. Iowa

Death:

July 10, 1972

—

Portland, OR

husband's wife

Alice

BEST

Birth:

April 1881

—

Illinois

Death:

September 4, 1909

—

Spokane, WA

Marriage:

September 25, 1907

—

New York

11 months

step-son

Frank Munro

REDMAN

Birth:

August 22, 1908

24

27

—

New York

Death:

May 13, 1985

—

Los Angeles, CA
Census

Margaret worked in Larimore before she moved west to Oregon.

1910 Census Margrat Griffin, 24 Birthplace: North Dakota Larimore Ward 3, Grand Forks, North Dakota Relation to Head of House: Boarder Occupation: Stenographer

Note

Named after her great grandmother, Margaret Anderson of Scotland and Ontario.

Note

Margaret was a long time member of the mountaineering club Mazamas of Portland Oregon. She was the first woman to climb Rooster Rock in the Columbia River just east of Portland.

Margaret climbed her last mountain at 70 years of age. She once said " I used to say that it would break my heart if I couldn't climb mountains but after turning 70 she thought climbing mountains would break her heart!!"